Finding the right guitar teacher can be a difficult, long-winded process; and, did you know in the UK, there is no requirement to have a formal qualification, training or specific experience? Traditionally, you would have to search 'guitar lessons near me' and this considerably narrowed down your search but after 2020, you no longer need only look locally allowing you to find the right teaching match. 
Whilst in-person lessons are still the preferred route for many, the greater selection of teachers to choose from online means it's an option that is definitely here to stay. You could choose to work with a tutor on the other side of the country if you find them to be the right fit!
In today's Guitarlab blog, we'll be discussing how our teaching has adapted to online lessons, and how you can ensure you choose the best guitar teacher for you – whether you are looking for local or virtual lessons.  
Teaching online: What does it mean for your guitar lessons?
Online lessons can be the ideal solution for those living in a rural location, or for those looking for a particular teacher. After a turbulent 2020, we've adapted to teaching virtually and continue to do so. But, you may be wondering how this works exactly? Many students are tentative to stray away from the more traditional in-person lesson, especially beginners, so we're here to reassure you of their success.
You'll need access to a device with a camera, such as a computer or a tablet, along with a solid internet connection. Any video-chatting software will work for online guitar lessons, but at Guitarlab we tend to use Zoom or Skype. Once connected, you'll see a big video of your teacher and a smaller one of yourself. Take a moment to look at the video you're sending to make sure that both your left and right hands are in view! It's important to have your guitar neck and where you're strumming in the picture so your teacher can observe your playing.
If you are completely new to guitar, don't worry about trying to tune your instrument before your lesson! Your teacher will take you through this process, much like a local teacher would had you chosen to only look for a 'guitar lesson near me'. 
Each teacher will have a different lesson format and this is generally based upon your musical goals. But, rest assured! You and your teacher will be able to hear and see each other throughout the session; they may, however, occasionally invite you to play by yourself so they can focus on what you are playing. And, despite the distance, you'll also be able to share the same music, chords or other resources thanks to screen sharing. If you prefer, you can print or pre-open the files prior to your lesson – your teacher can cater to you!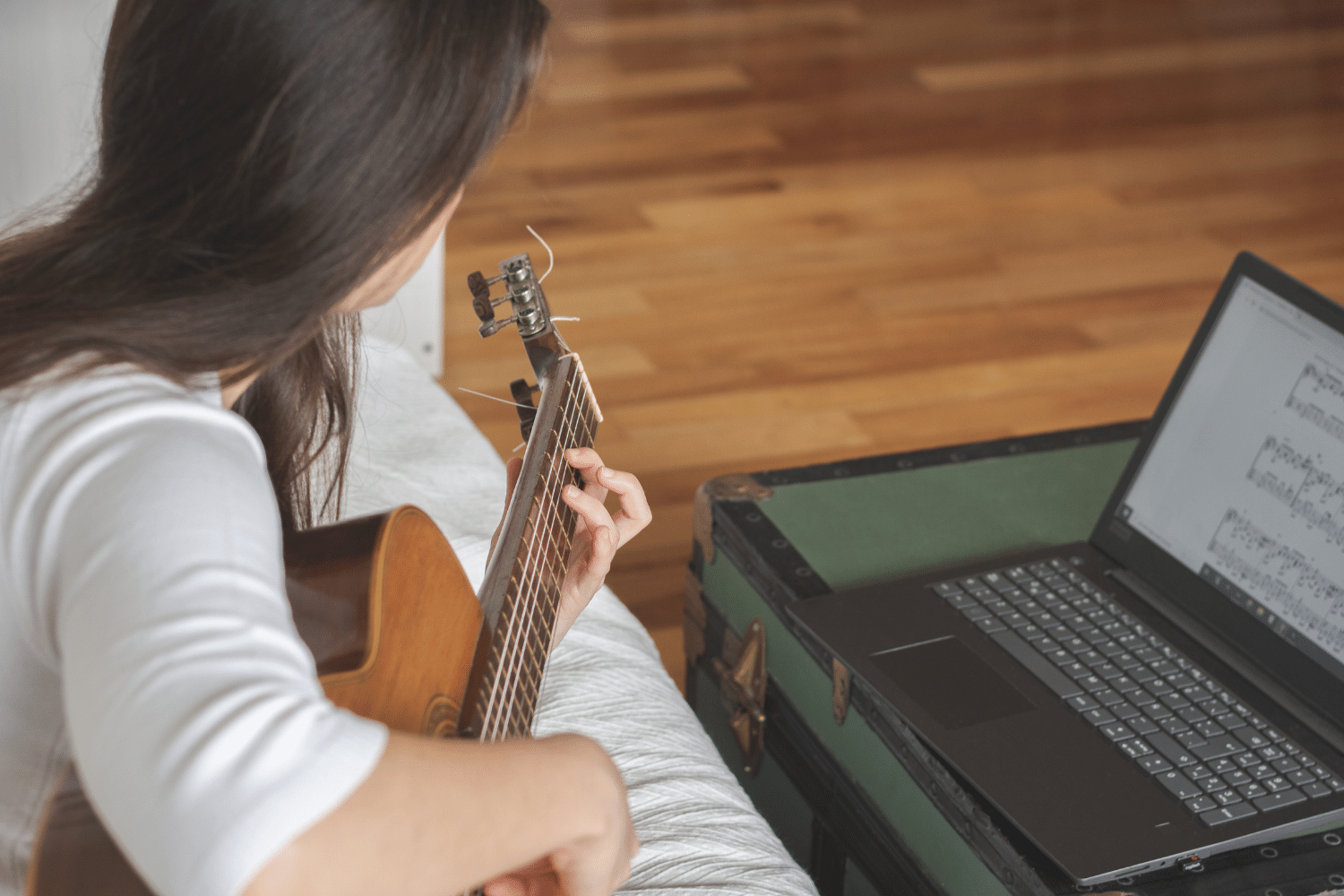 How to find the right guitar teacher for you
So, whether you are looking for online lessons or searching 'guitar lessons near me' to find an in-person teacher, what should you consider when choosing your tutor?
Musical training
The guitar takes many years to master – those that have spent years studying and practising at a music academy or university will have reached a high level with the instrument. Of course, this isn't to say you can't find a good self-taught teacher, however, this can be more hit and miss. A formally trained guitarist guarantees that you are learning from a reliable source and they'll have a fully rounded knowledge which they'll be eager to share with you. 
All of the teachers here at Guitarlab have studied formally – four of us having trained at the ACM in Guildford, just a stone's throw away from our studio. 
Teaching experience
Not only is musical training essential, but also the ability to share this knowledge effectively with a student. An experienced teacher will be able to offer precise insight into a student's development, enabling you to progress and reach your full potential. In addition, if you are struggling with a certain chord or riff, a teacher with experience teaching a range of students is likely to have an alternative or innovative idea to work around this obstacle. 
We all start somewhere though and whilst new teachers may still be learning the ropes, if you find a guitar teacher that you seem to mesh well with – whether it be online or searching 'guitar teach near me', it's not worth discounting them completely on their teaching experience.
Personality
You make think 'lesson' and flashback to a strict classroom setting. However, this is certainly not the case with guitar lessons! Learning the instrument should be a fun and enjoyable activity, one that you actively look forward to. Therefore, it's vital you choose a tutor that you feel comfortable around – a friendly and approachable teacher can make all the difference to your progress. And, you may even find yourself more motivated as you can trust and feel confident in your teacher having understood your overall goals. 
Instrument speciality
There are three different types of guitar: electric, acoustic and bass. And, whilst a teacher may play each of these, it's likely they specialise in just one. It's important to consider what your end goals are when learning guitar – are you looking to solo like the great Jimi Hendrix? Strum away by the campfire? Or, get down and groove on the bass? You may want to progress with a teacher that shares your musical style and type of instrument to make the very most out of your lessons together. 
Availability
To grow your playing ability, you'll want to schedule in regular lessons. Typically, these are weekly or fortnightly to ensure you are able to continue progressing effectively. However, some guitar teachers may be unable to schedule a consistent session pattern for you as a student if they have other commitments. Whilst some may prefer this flexibility, for many guitar pupils this sporadic pattern will not suit their lifestyle – especially for parents with children in lessons. 
Reviews and testimonials
Perhaps one of the most useful resources available to you when choosing a teacher, reviews and testimonials (search Facebook and Google!) are a great way to understand the teaching style of your potential tutor. You'll be able to hear what current and former students have to say about their experience with the teacher, an invaluable indication of the lesson quality you'll receive. 
Should you still search 'guitar lessons near me' before making your final choice?
Whilst it certainly is no longer necessary to narrow down your search locally, online teaching won't be for everyone. Virtual lessons tend to best suit students that can follow directions well and are independent; you'll want to feel comfortable making small changes to your hand placement and know your left from your right. This is especially important if you are just starting out with guitar chords, your teacher may need to give you specific instruction regarding how you're holding your instrument. 
Finding a local teacher can be difficult, especially if you live in a rural area. But, there are some advantages to this in-person approach:
Access to a dedicated studio space with all the necessary equipment on-site. For beginners in particular, you may want to trail an instrument before you buy your own. 

Subtle mistakes can be picked up easily, ensuring you walk away from your sessions confident in your playing.

If you find it difficult to follow specific instructions or shy away from technology, in-person lessons will allow you to progress more effectively. 
Both methods will provide you with a structured plan to follow and you'll be able to celebrate your successes along the ride – be that over the internet or in person! Guitar lessons provide you with a fantastic foundation to develop your playing, offering you tailored feedback consistently along the way. 
The bottom line
Finding the right guitar teacher can make a world of difference to your musical experience, whether it becomes a lifelong hobby or a career path for you. You can quickly become disheartened if your goals are not aligned with your tutor's lesson style, but this shouldn't put you off learning to play the instrument. Instead, consider searching elsewhere for another instructor – and, remember, 2020 has opened up a variety of new opportunities with online lessons ever-growing in popularity. Whether you search for 'guitar lessons near me' or not, the process should remain fun throughout. 
Have you decided which type of lesson is right for you? Guitarlab offers both online and in-person tuition, and with over 50 years between us, we understand how to comfortably tailor the learning process to suit you. Contact the team at Guitarlab at 01483 239935 or 07429 074072 and we'll be more than happy to discuss our teaching services with you.