The guitar is a very accessible, versatile instrument; after learning just a few chords you can begin to learn simple songs or even start writing your own music. However, often it is considered intimidating with elements such as scales and strum patterns not obviously set out to the beginner. But, whether you are just beginning to learn the instrument or wish to develop to more advanced playing, having some sort of instruction can make a huge impact, providing you with the confidence you need to develop your musical ability. 
There are two different routes available for instruction: online guitar lessons, or in-person guitar lessons. But is there really much variation between the two, or will one suit you more? Over the last few years, online training has become far more accessible, yet the traditional in-person style still tends to be favoured. In today's article, we'll be discussing the pros and cons of each method to ensure you make a fully informed decision and choose the option best suited for you. The overall answer will usually come down to three different factors:
Your preferred learning style – at home or in another space?

The cost associated with each method – there may be a slight difference in pricing to consider, though this is generally quite similar.

Your proximity to instruction/time available – are you close to the guitar teacher you wish to work with? Do you have the time available to travel to another space? (something to consider whether you be a student or parent!)
What's the difference?
An in-person guitar lesson involves paying a set fee for a half-hour or hour session with a personal tutor. You will usually travel to their own studio or building, and they'll provide you with any supplementary materials needed such as sheet music, chord diagrams and backing tracks. 
With the emergence of video calling software such as Skype and Zoom, teachers have been able to connect with students in real-time, from any location. It's essentially the same as a private one-on-one session, the main difference being the screen separating teacher and student. 
Of course, there are also other methods to learn the guitar such as YouTube videos and books, however, neither of these DIY approaches offer feedback and therefore can make mastery of the instrument feel like an uphill battle!
In-person guitar lessons
One-to-one lessons can be a very personal experience, you'll build a connection with your teacher over time that allows you to flourish as a player.
If you find an instructor with a passion for teaching that is also a great musician, it can be more than a little helpful in allowing you to reach your guitar-playing goals. They will be focused on you, your interests and your progress throughout your sessions. 
In addition, a private in-person lesson can be extremely effective to correct improper techniques, and the catered approach ensures all questions or queries can be thoroughly addressed which can be more difficult over the internet. 
The Pros:
Your teacher is professionally trained and brings the benefits of years of practice to you. Their tricks and technical skills are completely at your disposal – if you wish to choose a musical vocation, they can offer advice and local networking opportunities.

With a focused, tailored one-to-one lesson, you set the pace. You can choose between styles, methods and what songs you want to play. 

Consistent lessons and 'homework' will keep you on track and accountable, motivating you to do your best. 

The education received will be complete and will provide you with a good foundation to continue developing long into the future. 

You'll have access to a dedicated space along with the right equipment to ensure you can make the very most of your time (and not disturb your family/neighbours!)
The Cons:
One-on-one lessons are generally the most expensive option however, your instructor may have certain deals in place to spread the cost.

You'll need to find someone in your area whose schedule is compatible with your own.
If you're looking for the tried and tested, best way to learn to play the guitar, nothing beats private lessons in-person. Your teacher will provide you with a personalised lesson plan that helps you reach your full potential as a guitarist, and whilst this will still occur online it generally is more difficult to advance your playing as efficiently. Those who are serious about learning guitar should seek the help of a professional teacher in-person to ensure any small mistakes can be amended before becoming a habit.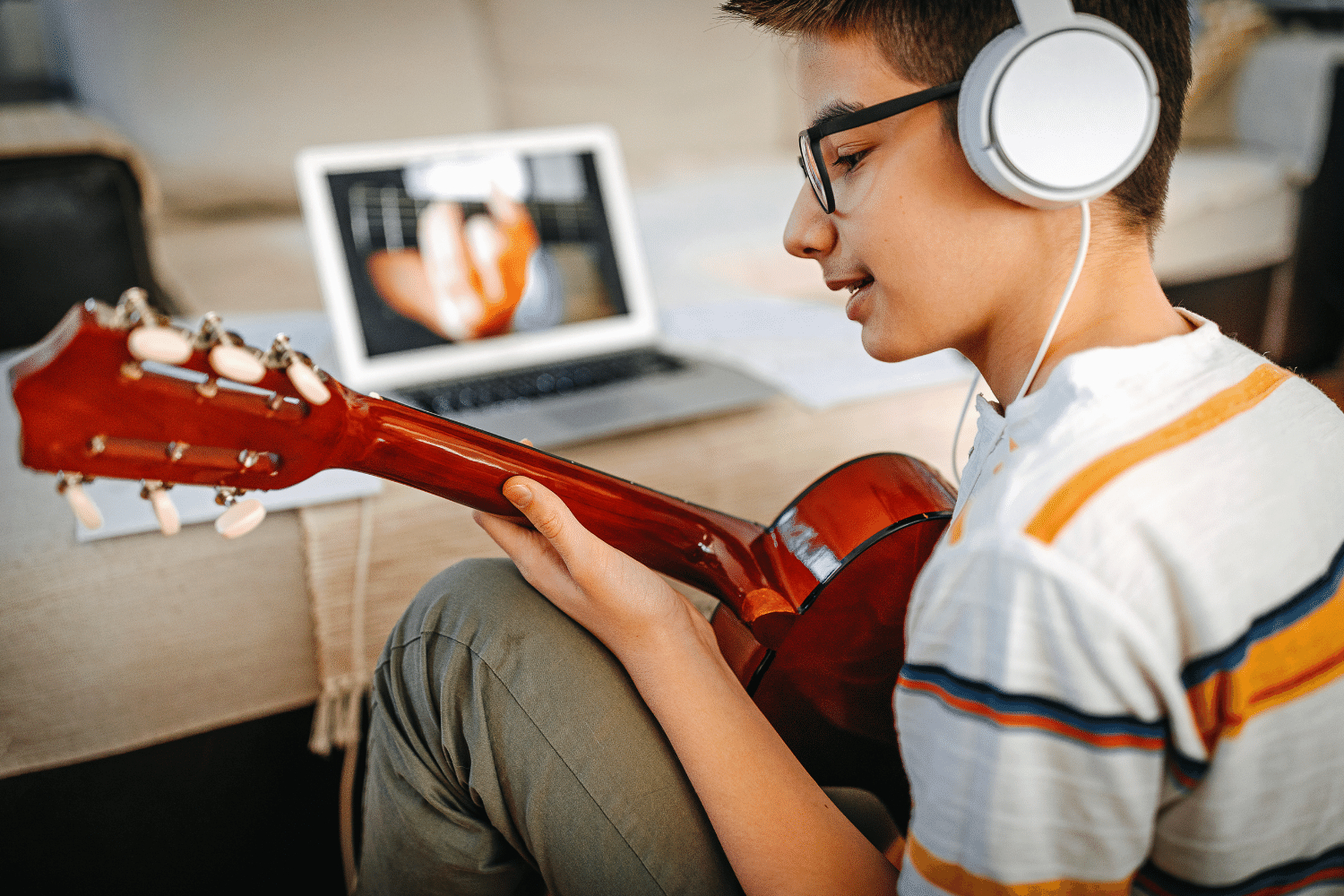 Online guitar lessons
Remote instruction via video calls provides an alternative to in-person guitar lessons. You'll be able to communicate in real-time with your teacher from the comfort of your own home, ideal for those that may have difficulty reaching the instructor's location. 
Furthermore, these sessions can be recorded and replayed over and over should you be struggling to nail down a specific method. However, subtle mistakes may creep in and become a habit as when not one-to-one in-person small details are commonly overlooked. The foundations of your playing may, therefore, be negatively affected. 
The Pros:
Great for students with mobility issues or very tight schedules (including busy parents etc.)

A wider range of selection of teachers available as you are not limited to those in your geographical area.

Often more affordable than in-person lessons, however, no dedicated space or equipment at your disposal.

Ability to record and watch back your sessions potentially making practice a simpler process. 

By far the most effective method for those wanting to learn online (other methods such as instructional articles or YouTube videos cannot provide any feedback/may be tricky to understand)
The Cons
Internet connections and video software are not always reliable, potentially causing you to lose valuable time.

You are unable to play at the same time with your teacher, and there is some lag which makes it challenging to provide the very best feedback

It can be challenging to learn guitar when your only visual model is a reverse image of what you're trying to learn – a bit of a mind warp!

Subtle mistakes are difficult to catch when your teacher is not present in the room with you which may affect your playing into the future. 
Though not quite as effective as in-person guitar lessons, remote learning can be an excellent alternative and can still provide you with the foundations for success as you gain personalised feedback. With a variety of teachers online and the flexibility of schedules/locations, online lessons may suit some students more. And, the more consistently you have online lessons, the more natural it will feel to learn remotely; you'll quickly get used to any video quirks such as reverse imaging! (and your instructor should be able to change this off too!)
If you find yourself tight on time one week or perhaps in a different location further afield, an online guitar lesson could be the ideal alternative for you. Rather than rescheduling and potentially feeling as though you've fallen behind on your learning, a remote lesson will still allow you to gain essential feedback even though you may not be able to attend in-person for a particular session. Combined with your regular one-to-one in-person lessons, you'll guarantee that your guitar playing ability continues to grow even when life gets in the way!
Alternative methods
It's worth noting the alternative methods when learning guitar; you could watch endless tutorials on YouTube, or even invest in a library of books! The issue with these methods is that you are more or less shooting in the dark, and whilst a video or written direction from a book can be invaluable resources to enhance your practice, relying entirely on these can see you become disheartened very quickly. 
Direct instruction and feedback ensure you can achieve your full potential as a guitar player, utilising the expertise and experience of your teacher. You may have heard of some famous musicians in the past teaching themselves, but this requires hours of endless practice and each will have received some form of guidance during their journey, though not told once they achieved fame. Furthermore, guitar players were a rarity! Only today has the skill become more accessible, but having the right instruction is crucial to enjoying your learning practice. 
Which should you choose?
Ultimately, you should choose the method that most suits your daily lifestyle – if you find yourself short on time, it may be wise to opt for online as you'll enjoy the sessions more. However, if you can dedicate the time and find a guitar teacher you match well within the local area it can offer an unrivalled experience.
Remember, learning guitar is a rewarding pursuit and should be fun! Take pride in your achievements, and whichever style of instruction you choose, you'll be provided with a new lifelong skill. 
Have you decided which type of lesson is right for you? Guitarlab offers both online and in-person tuition, and with over 50 years between us, we understand how to comfortably tailor the learning process to suit you. Contact the team at Guitarlab at 01483 239935 or 07429 074072 and we'll be more than happy to discuss our teaching services with you.