Deciding to pursue guitar lessons is an exciting prospect, though it can seem a little daunting, especially if you are completely new to music. As your first session approaches, you may find yourself a little panicked asking "what do I actually need to know before I start?"
And, whilst learning an instrument can be challenging, you shouldn't be concerned! At Guitarlab we tailor our approach to suit you, ensuring you feel comfortable and confident throughout our 1-to-1 sessions together – and, of course, ultimately enjoy the process. Should you still feel a tad worried, we've created this comprehensive guitar for beginners guide, preparing you for your first lesson and putting your mind at ease, reassuring you of the exciting road ahead.
What are your goals?
Perhaps one of the most important things to consider before your first guitar lesson is what you are hoping to gain from your studies. By identifying this reason, your teacher will be able to create a customised study plan that will be fully aligned with your own personal goals.
Take just a few minutes to understand why you want to learn. Are you hoping to pursue a career in music? Do you want to be able to play along with a group of friends, or audition for a band? Perhaps just jam out by the campfire on your next camping trip? There's no right or wrong answer here, but the learning process for the guitar for beginners can become a solidified investment when there is an end goal in sight. For parents in particular, it can be a fun idea to build a playlist with your children of 3 to 10 songs as a goal for them to learn on the guitar. 
Just a general idea of what your main hopes are for your guitar lessons will enable your teacher to create smaller, specific goals that will see you continue making progress towards your desired outcome. You'll also be able to enjoy your lessons more as your teacher will understand the drive behind your want to learn, and cater your sessions appropriately. Of course, your goals will likely change over time. As you develop your skills and grow as a musician, so too will your understanding of what you want to get out of your lessons. It's all part of the learning process! Your teacher will always be happy to revisit these goals and restructure accordingly, we know it's vital you feel you are reaching your own personal targets. Completing grades isn't necessary should this not be a focus for you, so when choosing a guitar teacher you shouldn't feel pressured into this route.
Should you buy a guitar? What type?
Acoustic, electric or bass. You may have already considered which type of guitar lesson you are looking for, but for many, it can be a confusing topic with a lot of misleading information online. Let's take a quick look at the main differences between the three:
Acoustic vs Electric
Electric guitars tend to have lighter strings, a smaller body, and thinner necks, whereas acoustic guitars have a larger body and a thicker neck to support the tension of heavier strings but do not require 'plugging in' to produce an amplified sound.
Bass
The bass guitar is typically slightly longer than the standard electric or acoustic guitar. With four strings, it is quite similar to the guitar, except for the fact that its notes are an octave lower. Because of this, its typical role in a band is to act as a supporting instrument, working to create a rhythm. The bass can be a great starting point for those who wish to play guitar, providing you with the foundations to build upon – plus, you'll be able to start playing full songs sooner. 
But, the biggest difference between all these instruments is their quality of tone and the feel when playing. Whilst many claim one is the simpler guitar for beginners to learn on than another, choose the guitar based on the type of music you want to play. 
So, should you buy a guitar before your lesson? Whilst having your own instrument can make practice far easier, it may be wise to first consult your teacher before you take the plunge. Talk with your teacher about the best type of guitar for your budget, the type of music you'd like to play, and even the size of your body (for children, a smaller instrument may be best before advancing to a full-size guitar). They'll be able to share their expertise with advice on what to look for in your first guitar and may even be able to connect you with some trusted musical equipment shops where you can purchase a quality instrument.
Scheduling your lessons and practice
Reaching your goals doesn't quite happen overnight! Committing to a regular, sustained lesson and practice schedule is key and should therefore be considered prior to your first lesson. When will you fit in your lessons and when will you practice? You'll be able to work with your teacher and formulate an effective progression path within this schedule. The process of learning guitar for beginners can be quickened when you invest time into your development, we find that students that have one or two lessons per week progress quickest. Our Guitarlab teachers can work both 1-to-1 in our specialist studio, or even online to suit your own schedule and keep your guitar learning on track.
Practice is just as important as lessons, if not more! If you can dedicate just 15 minutes a day, you'll see a steady improvement and feel confident ahead of your future sessions – even just twice a week, should you be unable to allocate time daily, will ensure you continue developing your skills. Whilst it shouldn't feel like a chore, scheduling in this time is necessary to provide you with results you'll be proud of.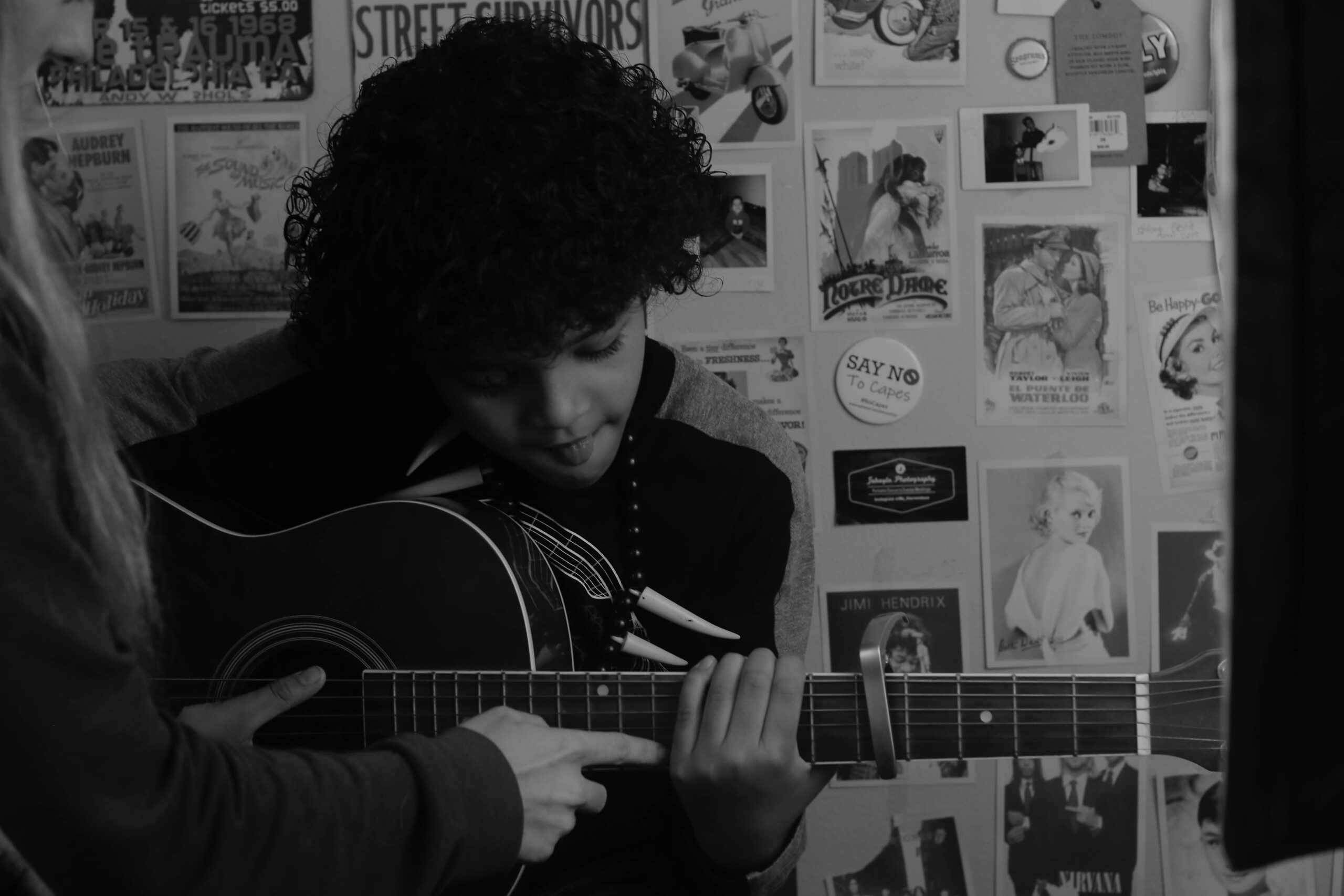 Prior knowledge isn't necessary!
When you start your lessons with Guitarlab, you don't need to come with a particular level of musical knowledge. While a basic understanding certainly won't hurt, it's not a requirement when starting to learn guitar – you can be a complete beginner!
Your teacher will guide you through the foundations and build your understanding over the course of your lesson which will include addressing posture, how to hold your instrument correctly, how to read music and other key techniques before you even begin learning chords and riffs. It can be confusing when you face unknown terminology online, so don't be afraid to enter with little knowledge – you'll soon feel comfortable telling an inlay from a fretboard.
Our Guitarlab teachers all have music degrees and have over 50 years of combined experience with the instrument. As a team, we've developed effective methods to break down the learning process, avoiding over-complication and ensuring you enjoy building the foundations of your own guitar knowledge.
Understanding some of the challenges you may face
We'll admit, it's difficult in the beginning stages – we've all been there! However, sticking with the process will see you not only able to eventually play your favourite songs yourself,  but learning guitar also improves your coordination and may make you appreciate music far more.
One common issue is growing pains; you'll be using your fingers and muscles in a new way, pressing down hard on strings to create the desired sounds. This can cause some discomfort, but it's important to understand this is only a temporary pain. With consistent practice, this issue will soon disappear, and you'll be able to focus on enjoying the learning process but knowing this prior to your lesson may allow you to prepare, giving your fingers a little extra TLC before and after.
In addition, when faced with such a mammoth challenge of 'learning guitar' you may feel slightly overwhelmed. There is always some initial frustration when trying to perfect new skills and techniques, many beginner guitar players often feel as though their hands are not responding to their mind! But, your teacher will provide you support throughout the experience and together you'll create small, specific goals to take each lesson at a time, celebrating your new achievements. Remember, your favourite guitar player once stood in your shoes, the key is to not give up!
Guitar for beginners: Preparing for your first lesson, the takeaway
The first lesson is just the beginning. It's important to remember that starting to learn guitar requires commitment, but you will see steady improvement over time with a dedication to your lessons and practice.
Preparing for your first guitar lesson shouldn't be a stressful experience, our team of expert teachers here at Guitarlab will warmly welcome you and ensure you feel comfortable – and, of course, excited for the learning process soon to unfold too! As your studies continue, you'll feel a growing sense of accomplishment as you reach new milestones with each session – perhaps you'll decide to perform for your friends and family, take your first guitar grade or even start composing your own music.
Whilst there are a multitude of ways in which you can prepare for your first session both mentally and physically, the most important thing you can do is bring yourself and a willingness to learn guitar.
Are you ready to begin learning the guitar and aren't sure who the right teachers are for you? Need some advice about the type of instruments, or ready to book your first lesson? Contact the team at Guitarlab at 01483 239935 or 07429 074072 and we'll be more than happy to discuss our teaching services.