When you're first starting out as a musician, it's easy to feel a little discouraged with your progress. But, it's important to remember every other musician started in the exact same position as you are now! They achieved mastery of their instrument through years of practice, and if you can dedicate just 15 minutes a day, you'll be on the same road to success.
Staying motivated can be difficult, and whilst it can be inspiring researching famous artists from across the world, finding a musician from your hometown could be the influence you need to get your instrument out and start playing daily.
So, we've compiled a list of some of the top 10 guitar players from Surrey to inspire your next practice – you may be surprised to learn of the artists that started their journey to fame right here in sleepy, leafy Surrey; we're more rock'n'roll than you might think!
Eric Clapton
Referred to as one of the most important and influential guitarists of all time having been listed as number 2 in The Rolling Stones 100 Greatest Guitarists of All Time, Eric Clapton is an awe-inspiring guitar player from Surrey.
Born in Ripley in 1945, Eric Clapton has remained closely connected to the county ever since. He lived with his grandparents in the area, and received an acoustic Hoyer guitar for his thirteenth birthday – but, due its difficult steel strings, he briefly lost interest in the instrument. What a relief he picked it back up two years later! Practising for long hours to perfect the chords of the blues music he was captivated by, Clapton was an advanced player and began busking locally at just 16 before joining The Yardbirds in late '63.
Genesis
Discovered back in '67 at the Charterhouse School in Godalming, Genesis were the pioneers of progressive rock. Initially serving as the band's bass guitarist and backing vocalist, Mike Rutherford also performed most of the band's rhythm guitar parts in collaboration with successive lead guitarists Anthony Phillips and Steve Hackett – frequently on his trademark twelve-string guitar! He later assumed the role as lead guitarist in '77, and together with Phil Collins and Tony Banks entered the band's most successful recording years.
Mike Rutherford received his first guitar at the tender age of 8 and played in his first band just a year later. He was heavily influenced by The Beatles, The Small Faces, The Kinks and The Rolling Stones during his time at Charterhouse and founded the band Anon (with Anthony Phillips) in '65 before later joining forces to form Genesis, creating the progressive rock sounds we know and still love today.
The Jam
Woking born and bred, Paul Weller is perhaps one of the most famous guitar players from Surrey – having built a formidable reputation as the Modfather of indie music. Hits such as Going Underground and A Town Called Malice (affectionately named after the band's hometown!) remain radio staples even today.
Music was always a big part of Weller's life, and after seeing Status Quo in concert in 1972, his musical vocation was confirmed. In the same year, he formed The Jam but it was not until the late '70s the band really took off – a blend of barbed lyrics focusing on the working class and pop melodies. Original Genesis lead singer, Peter Gabriel, even enlisted Weller on his third album having quotes "they're one of the new groups who have written the best songs" – a small world in Surrey!
Jimmy Page
Whilst he was born in Middlesex, it was whilst living in Epsom that Jimmy Page first picked up the instrument that would define his career and led to the formation of Led Zeppelin, one of rock's greatest bands. Using explorative, distorted guitar riffs alongside his love of the blues, Page has torn up the rulebook – even noted to use a cello bow to add texture to the band's sound! He joins Eric Clapton in the top 5 guitarists of all time and is therefore described as another of the greatest guitar players from Surrey.
Page picked up the guitar at 12 discovering a Spanish guitar he mysteriously found in a new family home, and he had a few lessons over in nearby Kingston to get to grips with the basics. However, as he quotes "when I grew up there weren't many other guitarists" and therefore, he also explored his own personal sound which we see later reflected in his explosive solos.
The Stranglers
Originally known as The Guildford Stranglers, none of the band members actually came from the town!  However, bassist JJ Burnel attended Royal Grammar School and the band first operated out of The Jackpot, an off-licence owned by drummer Jet Black. Emerging via the punk rock scene, the band is one of the longest-surviving bands having originated in the UK.
Though he originally trained as a classical guitarist, Brunel adopted the bass guitar in the band and is noted for his distinctive bass raunch, particularly prominent in early hits such as No More Heroes and Peaches.
Roger Waters
There's no question about Roger Waters' profound contribution to the popularity of the conceptual, psyche-rock music scene! Giving birth to revered albums such as Dark Side of the Moon (one of the biggest selling records of all time, having shifted over 40 million copies!) with his band, Pink Floyd, this Great Bookham-born boy was a part of an expansive musical movement.
However, did you know Waters didn't start playing music until he was on the cusp of his 20th birthday! It goes to show, it's never too late to pursue a new passion.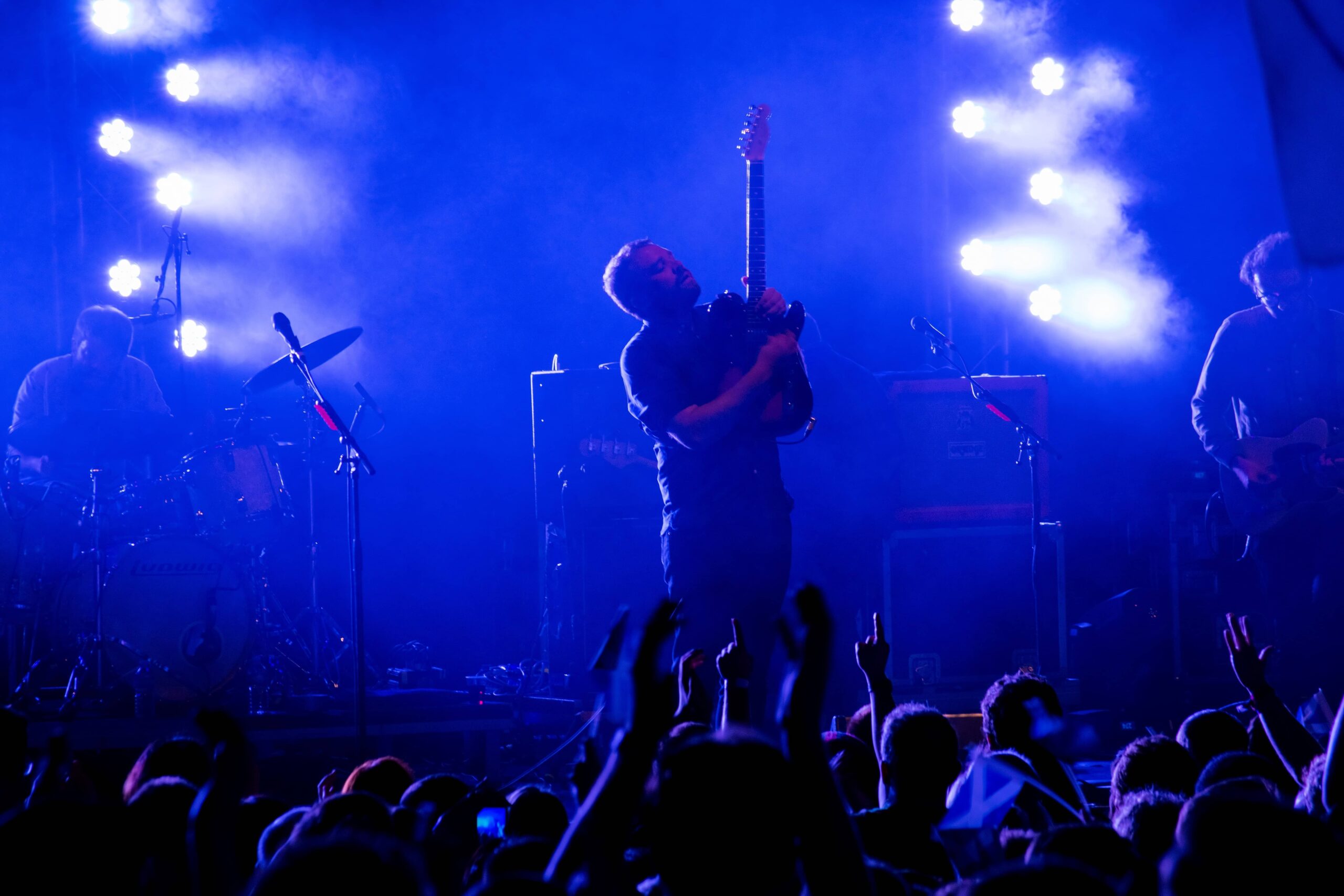 Rick Parfitt
Rick Parfitt was a member of one of the world's most enduring bands, Status Quo. Describing his upbringing in Woking as "wonderful" the town has honoured his memory and untimely passing with a blue plaque in the centre.
Parfitt wrote a whole host of the band's classic hits across his 49 years and 30 studio albums, including the ever-popular anthem Whatever You Want – always sure to get a crowd on their feet! His skills as a guitarist, however, perhaps best demonstrated in the distorted riffs of Rain.
Andrew Latimer
Highly regarded and considered a primary influence amongst many progressive rock guitarists, Andrew Latimer was born in Guildford. Though never reaching mass popularity, his band, Camel, gained a cult following in the '70s with albums such as Mirage, and are often considered the unsung heroes of the music genre.
Best known for his ability as a guitar player and vocalist, did you also know he's an excellent keyboardist and flautist too? His exploratory riffs within largely instrumental pieces make him an exciting musician to listen to for any guitar player needing a little inspiration.
You Me at Six
Fast forward to the '00s, and we have You Me at Six, an English rock band with their roots in nearby Weybridge. The band refuse to be bound by one genre and have released seven albums to date – each with new experimental elements, including inspiration from RnB, dance-pop, drum and bass, metalcore and synth wave. 
Guitarists Max Helyer and Chris Miller are two fantastic players that know no bounds when it comes to their use of the instrument! Their interesting riffs throughout the rock and roll bands music make for an interesting watch, try searching for one of their live performances to get inspired today.
Lucy Rose
Unfortunately the only female on our list, but what an incredible performer! At eighteen, she moved to London and began experimenting with other musicians. It was at this time when she met Jack Steadman, the frontman of Bombay Bicycle Club. And since then, she's only continued to develop as a musician, claiming the title of "one of indie music's breakout stars" in 2012. 
Born in Camberley, Rose's musical interest first began with drums before she later decided to purchase a guitar on her way to school. Mainly teaching herself, she wrote her own material throughout her studies but didn't share this until she left home years later. Her fragile, emotive acoustic playing perfectly complements her soft vocals, an ideal listen for acoustic guitarists. 
Newton Faulkner
Born in Reigate, Newton Faulkner's is known for his percussive style of playing and this expressive sound saw him rise to #3 in the album review charts for his debut Rebuilt by Humans in 2012.
Faulkner began learning guitar at the age of 13 (just two years before he started growing those impressive red dreadlocks!) and later attended the ACM in Guildford – five of our six instructors actually studied here too to achieve the same diploma! 
Bonus: Passing through the area and Rex Orange County
There are yet more guitar players of note that have passed through Surrey playing at venues such as The Boileroom and Fiery Bird before they rose to fame. Just a few names you might recognise include Ed Sheeran and The 1975, but Surrey is a fantastic area to see fantastic music live that is sure to motivate your guitar playing. 
And, did you know Rex Orange County grew up in Grayshott, just on the border of Hampshire and Surrey? His music is a popular choice amongst our younger pupils, and interestingly he uses a huge variety of chords within his songs rather than repeating just a few like most modern-day guitarists!
Guitar players from Surrey
As you can clearly see, there's an extensive list of guitarists from Surrey that can inspire your next practice. Whatever your goals are when playing the guitar, it's vital you stayed motivated and continue to challenge yourself to truly master the art. Even if it's just a short session a few times a week, you'll see vast improvement ahead of your next lesson – and hey, why not try setting yourself a goal to learn one of the songs from the musicians above! 
Are you feeling motivated after learning of these guitarists to give it a go yourself? Or, perhaps you want to take your playing to the next level? Contact the team at Guitarlab at 01483 239935 or 07429 074072 and we'll be more than happy to discuss our teaching services with you.